Located in Mathis,Texas
If you are interested in adopting one of our cats or dogs please email us!!!! We would like to thank you for visiting our site.
Grace Alcantar: galcantr@yahoo.com
Becky Chiarello: catfreak41812@hotmail.com
If anyone would like to help out and volunteer, please contact me. We could use all the help we can get. If time is something you are not able to donate, we could also use any donations that you can give. THANK YOU FOR VISITING AT OUR WEBSITE!!!
LINKS


http://www.geocities.com/theranchtexas/
HELP US FIGHT THE
OVER POPULATION OF CATS AND DOGS,
SPAY AND NEUTER !!!!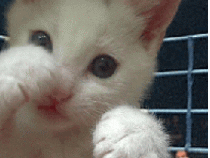 RESCUE ANIMALS